Walk with Map My Walk
19.13.0
Keep Track all Your Activities with this Amazing Workout App
If you are a fitness enthusiast who likes to keep track of their exercise performance then this workout app is a dream come true for you. Walk with Map My Walk is a nice app which allows you to monitor your workouts and exercise sessions and help you gauge the gains you are making. It can help you in knowing if your workouts are having the desired effect on your health or not. Moreover, it can also ensure that all your exercise efforts are logged and can be reviewed at any time. You will be able to track any run you go on or dog walks you make each day. It will also keep you motivated to continue with your exercise regime if you begin to lose interest.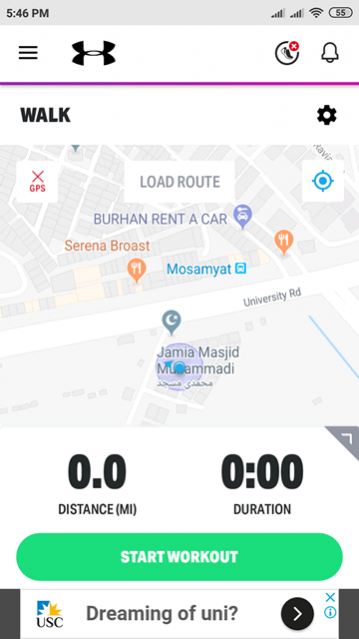 Walk with Map My Walk has a user-friendly interface which beautifully complements its intuitive design and layout. You won't have any difficulties in navigating the many features that this workout app has in store for you. However, before you get to utilize any of its features, you need to sign up first. You can either use your Facebook account for this purpose or choose your email ID. If you choose the email option, you would be asked to provide some personal information about yourself. After signing up, you will be asked to enter your height and weight and provide a profile photo. Moreover, the app will also want you to sync any of your shoes that have UA Record Equipped. These steps are optional, though and can be skipped.
This workout app is capable of tracking your walks and runs on a map. On its home screen, you will find a map. The app can easily pinpoint your location by using the GPS of your device. You just need to tap on the 'Start Workout' button located at the bottom of the screen to begin recording your workout session. Aside from runs and walks, Walk with Map My Walk can keep track of various types of activities ranging from bike rides to gym workouts and even stair climbing. You can choose the activity that you want to track from the menu that appears when you click the 'Settings' icon located at the top-right corner of the screen. The app will track the duration and distance of your activity and the number of calories you burn while performing it.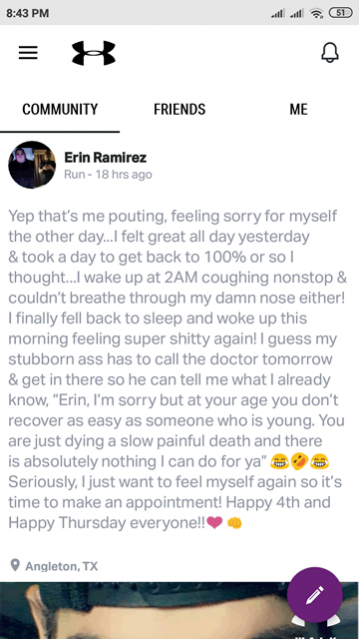 Walk with Map My Walk helps you in connecting with a wider community of health enthusiasts. You can share your exercise routines and workouts with them and also get inspired by their training methods. It can really help you in staying motivated and continuing your exercise regime. This workout app even allows you to create customized workout plans of your own or even adopt the workout plans being used by other members of the community. You can also keep an eye on the progress you have made so far by consulting the exercise history. It will tell you how better you have gotten since you started the workout routine.
Features:
User-friendly interface
Intuitive design and layout
Track your walk or run on a map
Various activities to keep track of
Exercise history to see your progress
Share your workouts with other people
Get inspiration from community members
Plan customized workouts for yourself
Adopt exercise routes of others
Conclusion:
Walk with Map My Walk is an app which is marketed towards people who love working out and are concerned about their health. It provides them the opportunity to track their walks and runs and plan out workout routines to help achieve their fitness goals. It is a good workout app to have on your phone for sure.
---
Add a review
Tell us your experience with
Walk with Map My Walk
19.13.0
RELATED PROGRAMS
Our Recommendations
---
---
---
---